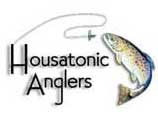 Between the Housatonic and Farmington Rivers, and their many tributaries, there is almost always productive fishing. When conditions are poor on one river, opportunities open up on another.
River Report
Winter Report
Both the Housatonic and Farmington can be fished all winter long, mostly with nymphs, although you might find fish up to midges, winter caddis, and even BWO's on warmer (45+) days. I will be guiding again in earnest in April of 2023.  Patagonia, Bahamas, here I come:-)
HOW TO INTERPRET RIVER FLOWS
Housatonic Flow
Reading flows and trying to determine whether the Housatonic is fishing well is a tricky business. An angler who states that the "The fishing on the Housatonic is best between 400 and 800 CFS (Cubic Feet per Second)" is making too many assumptions. This statement is by and large true for wade anglers, but how is the fishing when it is at1500 CFS? The answer to this question varies greatly. Look at the graph. If the river has been at 1500 CFS for a period of several days then the fishing is likely to be good, especially for the streamer and nymph fisherman.
On the other hand, if the river has been at a consistent 500 CFS and then jumps up to 1000CFS in one day, chances are the fishing will be poor. What is most important is water clarity and flow consistency. If the river has been flowing at a consistent CFS or is falling, then the clarity is likely to be good and the fishing good .... regardless of the CFS. I have enjoyed excellent fishing at 2000CFS from my drift boat. Water temperature is the most critical factor in terms of trying to determine whether trout will be active or not. As a general rule, the trout on the Housatonic will be most active when the temps are between 55 & 70 degrees. Once the river hits 70 degrees or more look for the bass fishing to improve.
Farmington Flow
In my opinion, there is no bad time to fish the Farmington, unless the river is in excess 2000 CFS. Even then, the upper section above the Still River can have good wading, even after heavy rains, because the water in this section is controlled by the dam. The river will drop and clear very quickly since the Still River is the only "major" tributary from Riverton down to New Hartford that has much effect on water clarity and volume.  Because the Farm is a true tailwater river, water temperature is rarely an issue.  Even during the hot summer months the water temps. are conducive to good trout fishing.
To generalize, the Farmington is best to wade at 600 CFS or less, and it is at these flows that you are likely to have the best dry fly fishing.  In order to understand what the flow is below the Still River in Riverton you must add the flow of both the Still River and the West Branch.