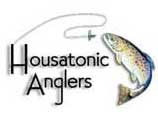 Availability for 2018
May: Booked.
June: 4,21,,30
July/August:  Wide open.
Sept-Dec:  Wide open.
Trips to Patagonia:  Cinco Rios (Jan 5-12) 7 rods available.  Chucao Lodge (Jan 12-19) Booked
                                 Esquel Outfitters (Jan 19-26) 3 rods available. 
Notes:
Both my sons (Ben & James) are available for guiding this May.  They are good on the oars, know the river well and are half the standard guide rate!  See my "Rates" page above.  There was an increase for 2018!

Please note that I work with several great guides that have drift boats for the Housatonic & walk/wade guides for the Farmington.  If I am not available, I will put you in direct contact with an available guide.
I do not have a rain or shine policy. We only go if we think the fishing is worth it.  If the weather is poor or conditions marginal then we reschedule for another day. I want to catch fish just as much as you do.....maybe more.  The idea is to have a good time while we are on the water not for me to simply collect a guide fee.
Catch of the week Photo
James & me on the Housy 5-19-18